The International Cooperation Department
The International Cooperation Department (ICD), as part of the international cooperation activities conducted by the Ministry of Justice, provides legal technical assistance to developing countries in Asia, in order to establish a democratic regime governed by gthe rule of lawh in those countries. Its activities include assistance in drafting and amending basic laws, improving legal systems and training legal professionals in developing countries, through legal technical cooperation projects organized by the Japan International Cooperation Agency (JICA) as the nationfs Official Development Assistance (ODA).
Requests for assistance from Asian countries have increased in both quantity and technicality, as they are in the process of developing basic laws, such as civil laws and commercial laws, which constitute an intellectual foundation for economic development. They are also in the process of improving the judiciary, especially a civil lawsuit system and the training of judges and other judicial officials.
In response to such requests, the ICD conducts various assistance activities, ranging from researching the actual legal situation in order to assess the real needs of the requesting countries, to dispatching legal experts to the judicial organs in those countries on a short and long-term basis, organizing joint studies between long-term experts dispatched overseas and Japanese working groups, inviting judicial officials from the requesting countries to training courses held in Japan, and conducting seminars overseas, in collaboration with the Supreme Court, the Japan Federation of Bar Associations, and the academia. So far, the ICD has achieved significant results in its assistance in drafting the Civil Code and the Civil Procedure Code, and training judges and other judicial officials in Vietnam and Cambodia, drafting the Commentary on the Bankruptcy Law of Uzbekistan, and other projects.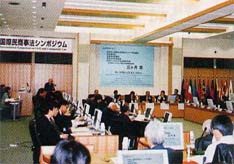 International Symposium held by the International Cooperation Department
(C)Copyright 1998-2006 Ministry of Justice.