In Penal Institutions Such as Prisons and Detention Houses
 The population of inmates in penal institutions in whole has not exceeded their capacity, however the population in female institutions has remained in an overcrowding/high incarceration situation. In addition, there are a number of inmates who require much time and effort in their treatment compared with general inmates, such as elderly inmates; under such circumstances, the burden on penal institution staff has been increasing.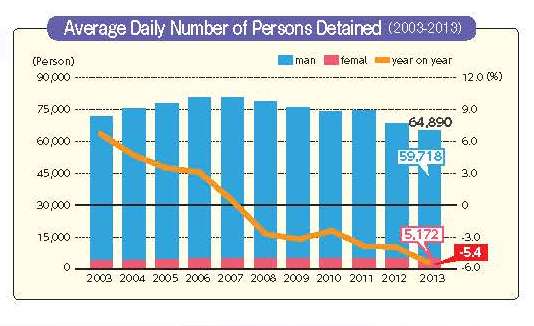 At the Ministry of Justice

 The Ministry of Justice conducts adequate treatment of inmates with respect for their human rights based on the "Act on Penal Detention Facilities and Treatment of Inmates and Detainees" which is the act enacted by totally revising the Prison Law. Furthermore, to support the adequate treatment of inmates, the Ministry is making every effort to improve facilities and human resources, as well as to facilitate clerical rationalization and mechanization.
 In addition, taking into consideration the experiences of foreign countries, the Ministry of Justice manages some penal institutions through joint operation between the public and private sectors using the PFI (Private Finance Initiative) which utilizes private capital, ingenuity and know-how. In those penal institutions, the Ministry is trying to enrich and develop correctional treatment by incorporating programs such as the Training Program for Guide Dog Puppies for the Blind, which has never been realized in prisons, in cooperation with the Japan Guide Dog Association (a public interest incorporated foundation).
 The Ministry of Justice will tackle the smooth implementation of the Act on Penal Detention Facilities and Treatment of Inmates and Detainees with persistent effort to contribute to the realization of safe society where the people can live with peace of mind. 

Logo of the Correction Bureau
 The yellow letter C represents "Change (reformation and transformation)" the red letter C represents "Challenge (attempt and passion for reformation)" and the blue letter C represents "Cooperate (collaboration with citizens)". The green letter S piercing through the three Cs represents a resolution to become "something" that is supported by society through contribution to society (SOCIETY).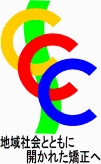 Logo of the Correction Bureau