About the Kyoto Congress Youth Forum (April 19, 2019)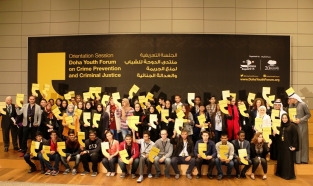 The Youth Forum in Doha
The Kyoto Congress Youth Forum
Japan has decided to host the Kyoto Congress Youth Forum, which is to follow the first Youth Forum, held in connection with the Doha Congress in 2015. At the Kyoto Congress Youth Forum, young people from around the world, including high school students and university students, will focus on various issues related to the main theme and agenda items of the Kyoto Congress. Young people from around the world will discuss ways to improve our society with a view to deepening their understanding of issues related to crime prevention and criminal justice.

If you attend the Kyoto Congress Youth Forum, you will:

・Debate and discuss issues of global importance with young people from around the world using English as a common language.
・Through three-days of intensive discussions, make life-long friends who may become future leaders.
・Participate in the Forum at the UN conference venue in Kyoto, Japan.
・Learn about the experiences of UN officials and other global experts and criminal justice practitioners.
・Visit a Japanese public prosecutors' office, prisons and probation offices.
Date & Venue

Kyoto International Conference Center(left), Room A(right)
Date: April 13 –15, 2020
Venue: Kyoto International Conference Center, Room A
Theme
Overall Theme
Youth Engagement for our Safe and Secure Society towards Achieving the SDGs

Agenda Items
Agenda Item 1 Youth engagement in preventing youth crime and reintegrating youth offenders
Agenda Item 2 Youth education for fostering a culture of lawfulness
Agenda Item 3 Youth commitment towards a safe information society

The number of participants
Approximately 120 young people, including Japanese and foreigners
Study session / Facilities' tours
Prior to the Kyoto Congress Youth Forum,
the public symposium
relevant to The Kyoto Congress Youth Forum will be held on September 8, 2019, and two study sessions will be held in Kyoto to deepen the participants' understanding of, and interest in, the issues to be discussed. It is expected that the study sessions will take place in December 2019 and March 2020. Participants will also have the opportunity to visit certain MOJ institutions, such as a Public Prosecutors' Office, prisons, probation offices and the Legal Affairs Bureau (Human Rights Section), etc.
Contact us
If you are interested in the Kyoto Congress Youth Forum, please contact us via the contact information below.   

The Office of the Kyoto Congress, Organizing Committee (c/o Ministry of Justice)
1-1-1 Kasumigaseki, Chiyoda-ku, Tokyo 100-8977, Japan
TEL: +81 (0) 3-3592-7422, +81 (0) 3-3592-7423
FAX: +81 (0) 3-3592-7425, +81 (0) 3-4433
Email: kyotocongress@i.moj.go.jp