Mr. Ryohei Miyata
Commissioner for Cultural Affairs, Japan
"THE MOMENT OF "TOKIMEKI"— ART AND THE SPIRIT OF OFFENDER REHABILITATION —"
Art is likely to be considered as something difficult or something unfamiliar. However, if you change your perspective a little, art becomes something very familiar, which brings you a feeling of "TOKIMEKI" ("exciting" or "heart beating" in Japanese).
This speech will let you know what "art" is and let you know tips to gain the feelings of "TOKIMEKI". Then, the speaker will address how he became familiar with the field of offender rehabilitation, and explain how art and culture contribute to offenders' rehabilitation.
Biography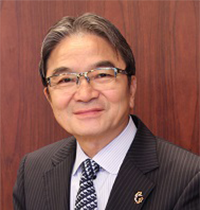 Metalwork artist Ryohei Miyata was born in 1945 in Sado, Niigata Prefecture as the third son of wax casting artist Rando Miyata. While managing Tokyo University of the Arts as the president, he participates in both domestic and international exhibitions frequently, including the "Ryohei Miyata Exhibition" (solo exhibition), displaying a renowned series of dolphin motifs called "Springen".
He has received multiple accolades including the Japan Art Academy Prize (2012), the Prize of the Prime Minister at "Nitten (the Japan Fine Arts Exhibition)," the Prize of the Prime Minister at "Nihon Gendai Kogei Bijutsuten (the Japan Contemporary Arts and Crafts Exhibition) ".
In the field of offenders' rehabilitation, he led metalwork workshops for youth at Tokyo University of the Arts for more than ten years. For that distinguished contribution, in 2005, he was awarded the "Setoyama Prize", which is the most prominent award in the field of offender rehabilitation.
In April 2016, he became the commissioner for the Agency for Cultural Affairs in Japan. He also served as the Chairperson of the Selection Committee of the Tokyo 2020 Games Emblem of the Tokyo Organising Committee for the Olympic and Paralympic Games.