Exhibit at the Kyoto Congress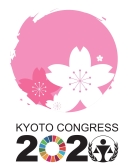 Applications of the exhibit at the Kyoto Congress can be made through this website.
Possible topics for Exhibition:
Any exhibition related to the main theme of the Kyoto Congress, "Advancing crime prevention, criminal justice and the rule of law: towards the achievement of the 2030 Agenda".
The details of the exhibition are described in the Kyoto Congress exhibition application requirements. Exhibition application will start on the Kyoto Congress website from August 26, 2019. Please consider participating in the exhibition on this occation.
Exhibit at the Kyoto Congress [PDF:802 KB]