Exhibit at the Kyoto Congress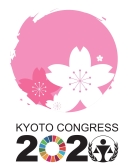 Applications of the exhibit at the Kyoto Congress can be made through this website.
Possible topics for Exhibition:
Any exhibition related to the main theme of the Kyoto Congress, "Advancing crime prevention, criminal justice and the rule of law: towards the achievement of the 2030 Agenda".
Formality and Application Process for Exhibition:
Minimum exhibition booth size is 3 meters × 3 meters
Planned cost for minimum exhibition booth is 200,000 JPY.
(for the duration of the Kyoto Congress, April 20 – 27, 2020)
More information about formality and application process for the exhibition will be available in May, 2019 at the Kyoto Congress official website.
Exhibit at the Kyoto Congress [PDF:719 KB]