Aum Shinrikyo
(hereinafter referred to as "the cult") is a religious organization established by guru and founder Shoko Asahara (born Chizuo Matsumoto). Under the direction of Asahara, the cult carried out numerous violent incidents against the general public, such as the sarin nerve gas attacks in Matsumoto and on the Tokyo subway system. In addition, the cult is now divided into the Mainstream group (Aleph,
Yamadara no Shudan
, etc.) and the Joyu group
Hikari no Wa
(Circle of Rainbow Light), and is still active (see the figure below).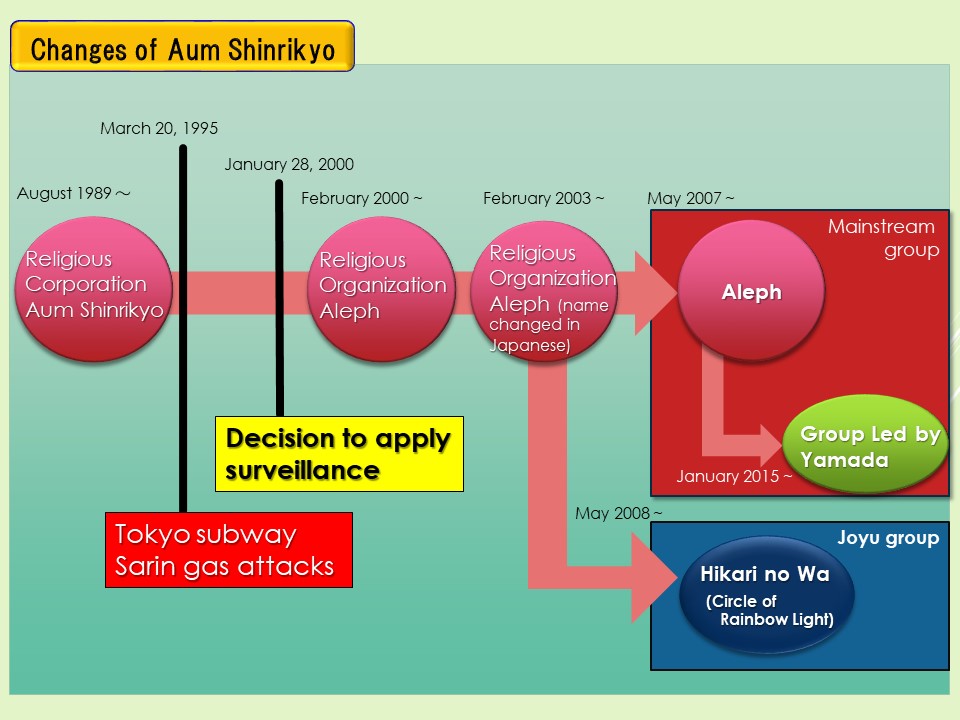 On January 22, 2018, the three-year surveillance disposition against the cult was renewed for the sixth time. The Public Security Examination Commission, based on the "Act on the Control of Organizations Which Have Committed Acts of Indiscriminate Mass Murder" (hereinafter referred to as the "Organization Control Act"), recognized the need to continue monitoring the status of activities through surveillance disposition because Asahara still had influence over the activities of the cult, the cult continued to have dangerous elements associated with the act of indiscriminate mass murder, it maintained a closed and deceptive organizational structure, and it caused fear and anxiety in local communities.
By conducting this disposition properly and strictly, the Public Security Intelligence Agency makes it possible to clarify the actual situation of the cult's activities and contribute to the security of the public including the tranquil lives of citizens.
On the 25th anniversary of the Tokyo subway sarin gas attacks by the cult, this explains the current situation of the cult and each attack by the cult, including the sarin gas attacks, and has notes from victims of the gas attacks, their families and bereaved relatives.
- Review and Prospects of Internal and External Situations (Aum Shinrikyo)
This is a booklet issued by the Public Security Intelligence Agency once a year. Main trends in 2019 are listed.