There are various factors for committing crimes or turning to delinquency, however, to prevent re-offending, it is necessary to take effective approach to each problem as well as to give guidance and support to overcome their problems. 
Therefore, prisons, juvenile training schools and probation offices are seeking to enhance effective and seamless treatment based on empirical studies and bases according to each offender's characteristics.

Guidance Provided at Prisons and Probation Offices
At Prisons, for inmates who have difficulty in rehabilitation or smooth return to society because of having certain reasons such as drug dependency, the following programs are conducted:
◆Guidance to Overcome Drug Dependency
◆Guidance to Stay Away from Organized Crime Groups
◆Guidance for Re-Offending Prevention from Sexual Offenses
◆Education Adopting the Perspectives of Victims
◆Guidance for Traffic Safety
◆Guidance for Job Assistance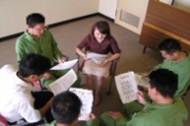 Workgroup at a Prison

Examples of social contribution activities
 At probation offices, in addition to specialized treatment such as treatment programs for sexual offenders or drug-related criminals, etc. efforts for social contribution activities etc. have been implemented.