The Ministry of Justice Museum-Message Gallery inside the red brick building of the Ministry consists of a room restored to its original appearance (formerly used as the dining room of the Justice Minister's official residence) which retains the atmosphere of the Meiji era, and an adjacent room with brick walls. It exhibits various historical materials and data on the "modernization of justice and architecture", and on promotion and publicity for the new justice system.

With regard to "modernization of the judiciary", the Museum exhibits materials concerning the activities of the old Ministry of Justice compiling basic legislation which required urgent enactment in the first half of the Meiji era, such as the laws concerning the organization of the judiciary and criminal laws, and also records related to the service rendered by the foreign jurists invited to Japan. In addition, the Museum displays the historical records of some sensational cases in the Meiji era as well as those related to the history of the Ministry and the administration of justice.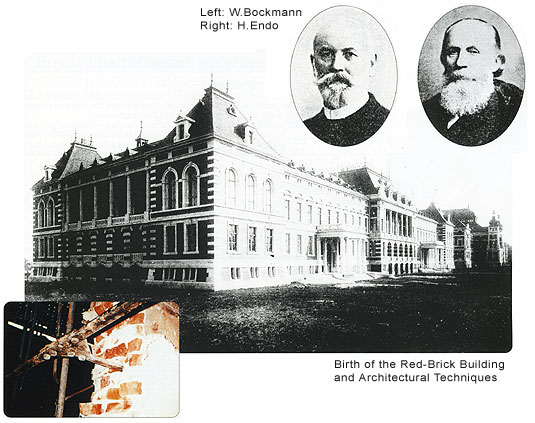 With regard to "architectural modernization", the Museum exhibits materials concerning the establishment of the red brick building, which is the only building that still exists among all the buildings constructed as part of the Central Government Buildings Integration Project promoted by the Meiji Government and that has been designated as a cultural asset symbolizing the modernization of Japanese architectural techniques, and also the materials used for remodeling and restoration to its old, original appearance.
In addition, in the message gallery corner are displayed materials concerning major public relations themes to promote national understanding of the judicial system, the administration of the Ministry of Justice and other matters. At present, as new topics concerning the judicial system, materials relating to the Japan Legal Support Center (Houterasu) and the Saiban-in (Lay Judges) System are exhibited.
Location
Red-Brick Building of the Ministry of Justice,
1-1-1 Kasumigaseki, Chiyoda-ku, Tokyo
Access
10 minutes on foot from JR Yurakucho Station
1 minute on foot from Sakuradamon station
(Subway Yurakucho Line)
3 minutes on foot from Kasumigaseki station
(Subway Marunouchi Line and Hibiya Line)
5 minutes on foot from Kasumigaseki station
(Subway Chiyoda Line)
6 minutes on foot from Hibiya station (Subway Mita Line)
Open
From Monday to Friday/Free admission
(Closed on Saturday, Sunday, national holidays, year-
end and New Year holidays)
Opening Hours
From 10:00 a.m through 6:00 p.m
(No admission after 5:30 p.m)
Advance Notice on
Visiting in a Group
You are cordially requested give advance notice by telephone, e-mail, etc.if you want to visit in a group of 10 or more.
Please tell us the group's (or the representative's) name, the time and date of visit and the number of persons.
Office in charge : The Ministry of Justice Museum Section
Direct telephone number : (03) 3592-7911
E-mail :
renga1@moj.go.jp