Vietnam

Activities and Results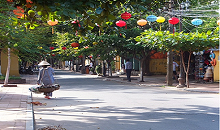 Through the introduction of the Doi-Moi (renovation) policy in 1986, Vietnam chose to make a shift from the traditional socialist-planned economy to a market economy. However, for the transition to a market economy to work, a new legal system had to be established to support it. Thus, Vietnam requested legal technical assistance from Japan to accelerate its economic transition. In response to this request, the Ministry of Justice of Japan (MOJ) organized a training course inviting Vietnamese judicial officials to Japan in October 1994. This marked the commencement of Japanese legal technical assistance to Vietnam, which is still ongoing to this day.
 In 1996, a private attorney was dispatched to Vietnam as the first long-term legal expert of the Japan International Cooperation Agency (JICA) in the framework of its Program of Cooperation in the Legal Field with Vietnam. Since 2000, the MOJ has regularly dispatched two long-term experts (one judge and one public prosecutor), and thus, with the constant presence of three long-term experts—a judge, a public prosecutor and a private attorney—in Hanoi (the capital of Vietnam) a mechanism for continuous assistance was established. A wide range of activities have been continued with the Ministry of Justice, the Supreme People's Court, Supreme People's Procuracy and Vietnam Bar Federation as cooperating institutions, including supporting the drafting of basic laws such as the Civil Code and Civil Procedure Code, and the development of human resources who apply the laws in practice.
 From April 2015, the "Project for Harmonized, Practical Legislation and Uniform Application of Law Targeting Year 2020" was launched, aiming for 2020 as the target year for legal and judicial reform in Vietnam. In this project, in addition to the daily and continuous support activities by long-term experts, activities focus mainly on the training of Vietnamese trainees in Japan, and local seminars conducted by dispatched Japanese experts. The project has continued to provide support in drafting and improving practice for the four partner institutions. It has also newly added the Office of Government as a partner and started support in areas that address new issues in Vietnam, such as ensuring consistency and clarity of laws and regulations.
 With such long-standing support from Japan, the awareness and ability of those related to Vietnamese law and the judiciary have also been improved. Future support will not be limited to concrete drafting and improving practice. Vietnam is at the stage where new areas for cooperation should be considered from a broader perspective in order to achieve further self-sustaining developments in the legal and judicial fields into the future.