Ms. Tomoko Akane
Ambassador for International Judicial Cooperation of Japan
Prosecutor, Supreme Public Prosecutors Office of Japan
"FUTURE OF PROBATION: ASIAN EXPERIENCES AND THE ROLE OF THE COMMUNITY"
Crime is committed in the community, and it is the community that offenders return to.
In other words, the attitude of the community toward offenders can determine whether it will experience a vicious cycle of recidivism or a virtuous cycle of offender reintegration, thus leading to social stability.
During the Third World Congress on Probation, the participants will share good practices for crime prevention and offender reintegration that have taken root in various parts of the world. In many Asian countries, community members work proactively to prevent crime and to reintegrate offenders into society. In Japan, these efforts are based on the historical background of its communities and local cultures. For example, Japanese communities are safer due to the collaboration between probation officers and volunteer probation officers rooted in the community.
Guided by the Japanese model, other Asian countries have implemented volunteer probation officer systems to enhance community participation in crime prevention and to prevent recidivism. These systems require close cooperation between private citizens and the criminal justice system, including probation services.
If public participation is enhanced, the relationships between criminal justice agencies and citizens will be strengthened, and this can lead to the realization of safer societies with low crime rates. The presentation will consider how this can be achieved and explore how public participation in offender rehabilitation can lead to sustainable societies.
Biography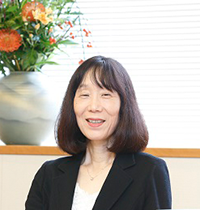 Serving as public prosecutor since 1982, she has over thirty-four years' experience as a government attorney. During that period, she has been assigned to several Public Prosecutors Offices. She also served as a Professor at Nagoya University Graduate School (2005-2008) and as Chief Prosecutor of the Hakodate District Public Prosecutors Office (2010-2012).
In addition to positions as a prosecutor, she has an extensive experience and expertise in international legal technical assistance for the development of criminal justice systems including probation systems. She served as Director of the International Cooperation Department (ICD) of the Ministry of Justice (2009-2010), and her tenure at UNAFEI exceeds seven years, including Director (2013-2014). In July 2014, she was appointed the Director-General of the Research and Training Institute of the Ministry of Justice.
Since 2012, she holds her current position as a prosecutor of Supreme Public Prosecutors Office, and since June 2016, she concurrently serves as Ambassador for International Judicial Cooperation. She is also a candidate for the 2017 elections of the Judges of the International Criminal Court (ICC).