The Third World Congress on Probation finished.
Thank you for your cooperation.


Japan cordially invites you to attend the Third World Congress on Probation, where we look forward to welcoming policymakers, practitioners and researchers involved in probation and community corrections from all over the world.
The World Congress on Probation―the world's largest forum in its field―aims to promote and develop probation and community corrections by sharing practical and academic knowledge, as well as broadening global networks in this field.
法務省

日本更生
保護協会
全国保護司
連盟
全国更生保護
法人連盟
日本更生
保護学会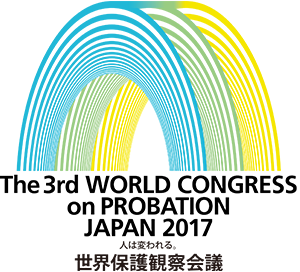 Hosted by
Supported by
(Japanese Organizations)
Tokyo Metropolitan Government
Japan Business Federation (Keidanren)
Japan Federation of Big Brothers and Sisters
Japan Women's Association for Rehabilitation Aid
National Organization for Employment of Offenders
Offenders Rehabilitation Services Development Foundation
Tachikawa Offenders Rehabilitation Foundation
Volunteer Probation Officers Association in Support of UNAFEI's Activities
Himawari Service Co., Ltd.
(International Organizations)
American Probation and Parole Association (APPA)
Confederation of European Probation (CEP)
International Community Corrections Association (ICCA)
International Corrections and Prisons Association (ICPA)