Vietnam

Activities and Results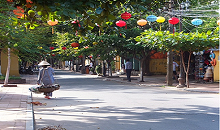 Through the introduction of the Doi-Moi (renovation) policy in 1986, Vietnam chose to make a shift from the traditional socialist-planned economy to a market economy. However, for the transition to a market economy to work, a new legal system had to be established to support it. Thus, Vietnam requested legal technical assistance from Japan to accelerate its economic transition. In response to this request, the Ministry of Justice of Japan (MOJ) organized a training course inviting Vietnamese judicial officials to Japan in October 1994. This marked the commencement of Japanese legal technical assistance to Vietnam, which is still ongoing to this day.
 In 1996, JICA started a project for legal technical assistance. Since 2000, with the Ministry of Justice, the Supreme People's Court, the Supreme People's Procuracy, and the Vietnam Bar Federation as cooperating institutions, we have been engaged in a wide range of activities, such as supporting the drafting of basic laws and regulations, including the Civil Code and the Code of Civil Procedure, supporting the development of human resources who will actually apply the laws and regulations, and improvement of practices. As a result, many achievements were made, including the enactment of important laws and regulations, such as the Civil Code and the Code of Civil Procedure, and the joint preparation of a practical manual for legal practitioners.
 In April 2015, the Prime Minister's Office was added to the cooperating institutions and "the Project for Harmonized, Practical Legislation and Uniform Application of Law Targeting Year 2020 (PHAP LUAT 2020)" was implemented.
 The Project provided new activities, in addition to the drafting support and support for improving practice, such as assistance aimed at ensuring consistency in laws and regulations, and assistance for joint activities by the three legal professions (judges, prosecutors and attorneys) on operational issues of the Code of Criminal Procedure.
 And in January 2021, the Central Committee for Internal Affairs of the Communist Party of Vietnam was newly added as a cooperating institution and the Project "Enhancing the Quality and Efficiency of Developing and Implementing Laws in Vietnam" was launched. In order to contribute to the promotion of legal and judicial reform in Vietnam and the enhancement of the country's international competitiveness, this Project is a new initiative in which each cooperating organization selects its own top priority issues and conducts research and discussion on them in a working group format, with the aim of improving the quality of the legal normative document system and its effective enforcement in light of international standards.
 The MOJ, in order to implement these projects, has been fully cooperating by sending prosecutors, including former judges as long-term experts, and also by conducting trainings in Japan.