Public Prosecution Public Relations Materials
For Victims of Crime (Pamphlet)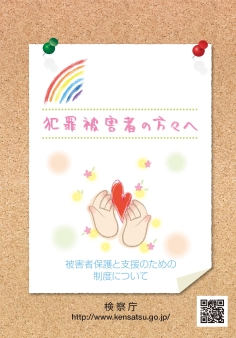 This pamphlet explains the various support systems in the Public Prosecutors' Office such as the:
"Victim Participation System" through which victims and their bereaved family members can get directly involved in criminal trial procedures; "Victim Notification System", which provides information such as the disposition of the case to victims and witnesses; "Victim Support Officers", who provide support to victims by accompanying them in the courthouse etc.; "Victim Support Hotline", which is a telephone number to receive inquiries from victims. In addition, the pamphlet explains the procedures for victims regarding inspection of records and returning evidence.
  You can look at the
pamphlet here
.
If you encounter crime (DVD)
  This DVD explains the protection and support given to victims of crime by the Public Prosecutors' Office depending on the situation such as the investigation stage or trial stage with easy-to-understand narration commentary.  You can watch the
DVD here
(about 20 mins).  The website mentioned here uses the services of 
YouTube
, the video distribution website operated by Google LLC, under the supervision of the Ministry of Justice. The website address is current as on June 1, 2015. The website address may have been deleted or changed. Please confirm the latest address.
Victim Support Officers (Poster)
Public Prosecutors' Office (Pamphlet)
  The Public Prosecutors' Office carries out "person-to-person public relations" in which staff explain the significance and role of prosecution as clearly as possible.
 For more information, please contact your nearest Public Prosecutors' Office listed in the pamphlet.
  You can look at the
pamphlet here
[PDF: 1896KB].
*To view PDF files,
Adobe Reader
is required.
Guardians of Law and Justice Public Prosecutors' Office (Video)
  In an easy-to-understand way for elementary and junior high school students, this video explains the role of the Public Prosecutors' Office and the difference between the Public Prosecutors' Office and the police in a dramatization where a young boy that witnesses a thief is unsure when he hears the words "Public Prosecutors' Office" for the first time in a police interview, and resolves his questions while talking with a public prosecutor and gives testimony at trial.
(Format: VHS about 20 minutes)