The Youth Forum for the 14th United Nations Congress on Crime Prevention and Criminal Justice (The Kyoto Congress Youth Forum)
The Youth Forum has ended. Thank you for your participation. Click here to see the results.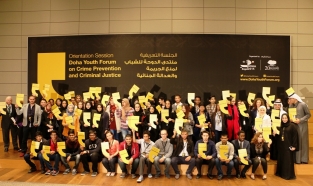 The Kyoto Congress Youth Forum
Japan will host the Kyoto Congress Youth Forum, which will bring together young people from around the world to have lively discussions on worldwide issues relevant to the main theme and agenda items of the Kyoto Congress. The recommendations of the Youth Forum will be presented to the Kyoto Congress.
Participants will benefit from the Kyoto Congress Youth Forum by:
Discussing global issues in English with youths from around the world with diverse views and backgrounds;
Engaging in lively discussions and making life-long friendships with youths who may become future leaders;
Learning from the experiences of UN officials and other experts in criminal justice;
Familiarizing yourself with issues in the field of crime prevention and criminal justice.
Overview
Date:

February 27 and 28, 2021

Venue:

Kyoto International Conference Center

Method:

Hybrid style (in-person and online)

Participants:

approximately 160 youths (high school, university, graduate students, etc.)

Language:

English
Theme
Overall Theme
Youth Engagement for Our Safe and Secure Society: towards Achieving the SDGs
Agenda Items
Agenda Item 1: Youth engagement in preventing youth crime and reintegrating youth offenders.
Agenda Item 2: Youth education for fostering a culture of lawfulness.
Agenda Item 3: Youth commitment towards a safe information society.
Program
Program(PDF)
Opening Ceremony
Opening Remarks
 Yoko KAMIKAWA, Minister of Justice of Japan
Address
 Her Imperial Highness Princess Tsuguko of Takamado
Remarks
 Takatoshi NISHIWAKI, Governor of Kyoto Prefecture
 Daisaku KADOKAWA, Mayor of Kyoto City
Keynote Speech
Norishige KANAI, JAXA Astronaut
Plenary Session
Introduction by the United Nations Office on Drugs and Crime (UNODC)
 The UNODC official will explain the overall theme and the agenda items.
Introduction of the topics for the Group Sessions (Agenda Item 1-3)
 Experts/Practitioners in criminal justice will introduce actual cases and practices on each topic for Group Sessions.
Plenary Session
Report on each Group Session
Adoption of the Recommendations
Measures against COVID-19 infection
Guidelines to be observed before visiting the venue
Participants are required to undergo PCR testing.
Participants are requested to perform daily health monitoring, including daily temperature checks. Please refrain from visiting the Youth Forum venue in the event of poor health conditions, such as fever, cough, sore throat or other symptoms, even if your PCR test results are negative. Please also refrain from visiting the venue if, within the past 14 days, you came into close contact with travelers from and/or residents of the countries or regions where entry restrictions are imposed through border control measures implemented by the Japanese government to prevent the spread of COVID-19, or if you came into close contact with anyone infected or suspected of being infected with COVID-19.
Please do not travel to the venue in groups. To the extent possible, please avoid traveling to the venue in groups.
Please install and use the COVID-19 Contact-Confirming Application (COCOA*). We also encourage registering for the contact tracing service** of Kyoto City.
* Link to COCOA:
https://www.mhlw.go.jp/stf/seisakunitsuite/bunya/cocoa_00007.html

(Ministry of Health, Labour and Welfare website)
** Link to the Kyoto City "Coronavirus tracking service":
https://www.city.kyoto.lg.jp/hokenfukushi/page/0000270672.html

(Kyoto City website)
Measures against infection to be taken at the venue
Please disinfect your hands before entering the venue by using the hand sanitizer that will be provided at the entrance. Hand sanitizer will also be placed throughout the venue, so please wash and/or disinfect your hands regularly.
Temperature screening will be performed at the entrance of the venue. Those with a fever or of ill health will be denied entrance.
Participants are required to wear masks inside the venue at all times. The organizers will not provide masks or any other personal protective equipment (PPE). Please note that wearing a face shield is insufficient protection.
Each venue will have seating arrangements with adequate spacing to ensure "physical distancing", and mechanical ventilation and other measures will be taken. Therefore, all participants should consciously keep "physical distance" from each other (preferably 2 meters but at least 1 meter) to avoid "crowding". Avoid physical contact, including shaking hands.
Eating should be finished as quickly as possible at designated locations. Please minimize conversation during mealtimes.
Acrylic screens will be placed where necessary, including where people will come into contact at the venue. Moreover, plastic curtains will be installed in areas where contact with participants is expected, such as reception and baggage screening counters. In these situations, our staff may ask you to wait in line while applying distancing or zoning procedures. Thank you in advance for your cooperation.
The venue will be cleaned and disinfected regularly. In particular, door handles, elevator buttons, and shared items that are accessible to many people will be disinfected most frequently.
In order to minimize the risk of contact among multiple people, please use the same seat in each session and bring your own PC (with Microsoft Teams set up according to the instructions in advance) whenever possible. We also recommend that you should bring your own headphones or earbuds with a microphone (Bluetooth may not be available). If you do not bring this equipment with you, you may be able to borrow equipment form the organizer. Equipment provided by the organizer will be disinfected in advance.
A nursing station with licensed nursing staff will be set up at the venue. If you feel ill, such as a fever or other symptoms of coronavirus infection, please call the nursing station immediately. The phone number will be announced on the first day of the event.
* The organizing staff will also observe these measures strictly. All staff will undergo PCR testing.
Other matters to keep in mind
Please monitor your health for at least 14 days after the end of the Youth Forum. If you learn after the Youth Forum that you contracted coronavirus, please contact the organizers of the Youth Forum immediately.
In the event that a follow-up investigation is required to trace coronavirus infection, please be advised that we may provide your personal information (name, organization, telephone number, email address, etc.) to public health centers or other agencies.
Contact us
The Office of the Kyoto Congress Organizing Committee (c/o Ministry of Justice)
1-1-1 Kasumigaseki, Chiyoda-ku, Tokyo 100-8977, Japan
TEL: +81 (0) 3-3592-7422
Email:youth_kyotocongress@i.moj.go.jp